While working towards a Masters of Science in Animals and Public Policy at Tufts, I worked part-time for a wonderful Irish veterinarian who had 9 children and owned 13 veterinary establishments. For the first time since completing an internal medicine internship that I worked for someone who encouraged me to practice the best possible medicine. My previous employer had made me think that I had chosen the wrong profession, restricting my ability especially to take excellent care of cats.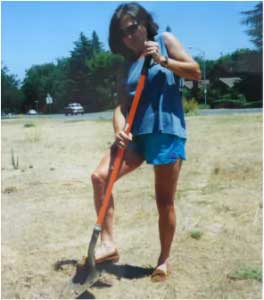 When I returned to Chico, I knew that I had to create a new experience for cats and their owners. Once we began to look for property, the picture of a building that was warm and welcoming began to appear. If it looked like my grandmother's house in Ohio, people would see that it was a place they would like to come to. We found a little piece of land on West East Ave. and the possibilities started to look like a reality.
With the help of the Small Business Development Corporation, I wrote a business plan that was accepted by a local bank. By March 1998, we were open. Every aspect of our clinic is designed with the nature of the cat in mind. Keeping quieter, slower, and calmer than bustling practices keeps kitties and clients comfortable. The stress of any doctor visit is universal. Our goal is to minimize it for everyone. We have tricks up our sleeves such as Feliway wipes that you can use to wipe the interior of your cat's carrier to help them calm down. We can help you adjust your cat's attitude about the car and carrier from "fear to cheer". We have Feliway diffusers everywhere there is a feline patient or boarder to have that "Happy Cat" smell throughout the clinic.
Having a lobby that does not smell like d-o-g-s helps too. Chico Hospital for Cats looks and smells just like home. There are no strong chemical smells or bright, sterile hospital lights to frighten your cat either. No barking or loud voices.
Our exam rooms are cozy too! We even respect how to take your cat out of her carrier by taking it apart instead of pulling them out. Our doctors will give your cat time to acclimate to the room while they talk with you about your cat's history. We use an ear thermometer and other techniques to keep fear or discomfort at bay. Our doctors can even examine our especially scared kitties in the bottom halves of their carriers, on the bench, or in your lap so they feel safer.
If your cat needs lab work done, we will keep you together so you can be a part of the process if you aren't feeling squeamish. At Chico Hospital for Cats, we don't scruff our patients; we gently use the cuddle hold or even use our version of a "purrito" (cat burrito).
Some cats do need a special cocktail to relax, we will admit that. Many times cats are so fearful that they need to be sedated for our doctors and staff to do a complete physical examination or proper diagnostics. It is for their safety. Our doctors have been thoroughly trained and experienced in all matters of "cat". Their expertise and knowledge are the cornerstones of a healthy future for your beloved feline. Sometimes a little sedative is all we need to do the best possible investigation. Our sedatives are tailored to your cat's specific needs and are reversible! We keep the time they spend in our hospital to a minimum.
Written by: Elizabeth Colleran, DVM, MS, DABVP (feline), Chief of Staff at Chico Hospital for Cats